Today i'm going to talk about American Idol. It had shot ordinary Tom, Dick and Harry or Plain Jane to stardom within a couple of months singing in front of millions. Even if they do not win the idol title, they can do better than those that actually won the title. What it takes to be famous in this phenomenon:
Be a lil bit better looking than the winner
The freaky Clay Aiken(if he is invisible, he wants to spy on girls) outshone Rueben the fat.
Be America's Darling Girl:
The pretty Kelly Clarkson was the first to win American Idol. She went on to win a Grammy and oops, she forgots to thank those that make her famous, the fans and American Idol itself. Kacang lupakan kulit, that's what she is. From a frumpy country girl to a rock chic. I guess she lost the title as girl next door.
Have pure talent, need not be pretty:
Look at Fantasia Barrino, she has got a voice of an angel, so god damn unique especially when she sang the song "dono what's the title but she sang lying" but she has a Erm….not so pretty face.
But there's an exception for everything. There's 1 guy who makes million without having any of those mentioned above. He is neither good looking nor talented. Let me present to you, the one that shames all chinis for infamous dance: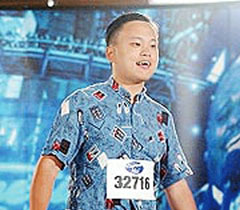 Well, those the finalist of this season has got what it takes to make it? Either Make History or Be History is the rule of the game here.