** WARNING!! ALOT OF PHOTOS!! come back in a few minutes after it finish loading =)
Since beginning of the year, i've been bringing friends around penang whenever they visit. I'm so good at memorizing the places to go, i bet i can be a qualified tour guide. So maybe the next time i will charge people..kakaka..personalize tour package. I even joked with seow yee the other day on msn. "Customize package that suit your best interests"
Previous 2
trip
was based solely on food and night life. This time around, it's more on temple. Seriously, if i go to another temple, i'll definately faint. 5 temple in a day people. It's 5 freaking temple in a day..hhahaha..Some of it i've never been there for years.
I was woken up abruptly on tuesday around 10am by AhWong which does not know the way to my house..Shit, i thought they gonna arrive after lunch, so i just rushed out of the house in my pj directing them to my house, before letting them wait in the carpark for 30mins because i need to get ready. Hey, i did invite them up to my house, they refuse ok.. haha

First stop after checking-in was to Swatow lane since its like the one-stop food haven! Had the usuals, not really interested in taking all the food photos again. So we'll just skip tat part, shall we? On the way to pick SweetSarah up, we stop by at some temple, which is actually 2 temple.


Then we headed over to the Sleeping Buddha. Which obviously has a huge buddha statue in the sleeping position.


Devotees light small to large lotus shape candles as offerings to the huge buddha. The candles doesnt come cheap ok..It's like RM5 for the smallest size and for fancier design, you pay up to RM15 each! During festivals, once u place it on the table, after around 20 minutes, they will throw away to make space for other candles =.=

And a smaller shrine around the compound. Penang temple very rich..all very goldish k..!

Then we crossed the road over the newly revamped Myanmar Temple. It's seriously very nice and i think photographer would love the place. Profesionals la..i take lousy shots ler…*blush*
This is one of the newer shrine on a lake/pond/pool. i dont know what you suppose to call it.

I think the aunty is wishing to have a better life, maybe strike 4D. KAkaka


Then one of the friend saw something interesting. Just 20cent. haha

The temple is famous for its 18ft new statue. It's all about breaking records now isn't it? o_O

Next temple is Snake Temple without snake -.-|| That's because it's so fucking commercialized ok! Last time, they have snakes hanging around the trees that give me the creeps when i was walking around.
NOW, they cage all the snakes and you had to pay to see the snakes. Idiots! I might as well go to a zoo or any random pet shop if i want to see a snake in an aquarium. Anyway, we din't went in cos we think it's not worth it at all. tiu. Before we left, we saw some dogs fighting over a bitch. haha..so violent k..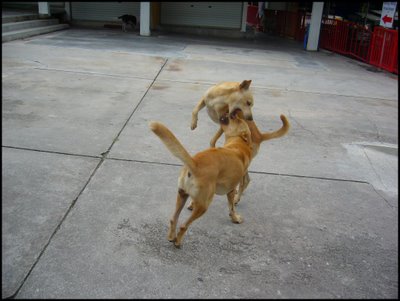 Me and Sarah brought the guys to our favourite seafood restaurant but it was close (>.<) How CAN!! Arghh! Then we just hang out at the beach while thinking of an alternatives.

While Sarah took our photos, ah meng was too busy playing with the sand to even bother. haha.so funny! Then i had them jumping for me. Sarah look so cute while the guy looks like chinese vampire!
And i spotted this odd colour sampan..hehe..looks so sissy to me.

So we went to this place, Hai Boey, at Gertak Sanggul. Don't really have a choice as i don't know how to go Batu Maung and it's too late to go Batu Kawan. I think they expression says all..Hehe..i love this shot!!
Group photo taken by a japanese-lookalike-half-drunk uncle sitting next table.

That's all for Day 1.
Day 2 coming Soon!!