**WARNING!! Loads of photos ahead! Please dont blame me if it slows down your downloads or internet speed! Awful long blog
Update 24/3/06: More photos here!

This is such an experience which is soooo worth to blog about! I've been wanting to Kerachut since I such place exist in penang! My brother and sister had been there before, half of my male friends had been there before, even my mom and dad had been there! The "kiasu" side had the better of me. I vow to get there someday! Always when the chance arise, there will be obstacles preventing me from getting there.
The chance is here. I had to grab it! I nearly forgo it for the sake of beauty sleep. So, 1 fine satuday morning, i woke up at 7am to get ready. Reach infront of my college gate 8am as agreed. The morning silence was broke by the sound of my phone * Lu Kuo Che Jui Shi Aiiiiiiiiii* Donovan called to tell me that he just woke up and he's still at home >.<
A rare sight for me

Around 9am, everyone FINALLY got there and we went for breakfast. Yak Yak for awhile and off we go, 5 of us, in Donovan tank car! When we reach End of the World, there are already a few groups of people(which we don't know) gathering there. A bunch of scouts, a group of malay and some backpackers ang moh. Me and Ailing planned to go by boat as we are to lazy to hike. I have not move a limb for the pass 3 months, i'm afraid i'll collapse halfway. Mana tau, the boat rent is RM90 per trip! KNN! The chinese uncle say all the rates are the same if we go elsewhere. So we have to choice but hike with the boys. I thought it will be a ok for me as i used to hike alot (Useless fact: i completed starwalk before!!)
Let the journey begins..
The walk start quite plesant with nice tar road, and even nicer walkways. We saw more malays along the way before we officially reach the start of the hike after walk over the drawbridge thingie. It was a downhill hike for me as it's so GOD DAMN SLOPY!! With stairs!! At first, we ( the girls) were all chatty and laughing all the way, we even sing song..After a while, there's no sound except for the panting and sound of crickets. We were sooo breathless, i thought of turning back and just wait for them in the car. It's was tortureous!
Notice how girls will always pose no matter what condition they are in??
We bump into fellow hikers along the way and Ailing ask one of the them to snap a picture in the middle of nowhere. I was about to faint at that point so the boys had to help me carry my backpack. Thank you Donovan, Tony and Yaw Shiong for being such a nice gentlemen. In order to get to the beach, we had to hike over 3 hills. God knows how long we hike, but we reach a shelter along the way, where we stop to rest.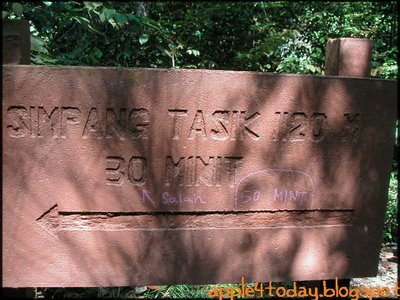 30 minit? SALAH!
They had small shelter build along the way and deceiving signboard too. We bumped into several hippies ang moh who was friendly and greeted us and all.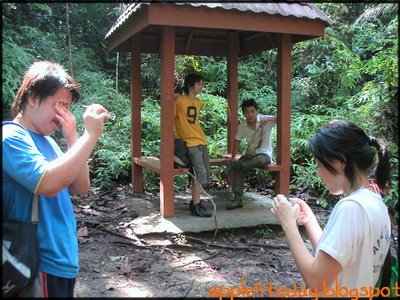 Rest awhile ya..
We came to this T-junction where one is where we come from, another is pointing to a lake and another to pantai kerachut. In fact, Donovan say, the one pointing to the lake is a straight hike to kerachut and the one to the kerachut is to the lake then the beach. See how messed up our signboards are. Since we are already there, we choose the one heading to the lake and will reroute back to kerachut. It was a very very slopy staircase we are heading to. There are fallen trees where we have to slide over and narrow bridge full of ants that we had to cross. Finally, we reach the lake!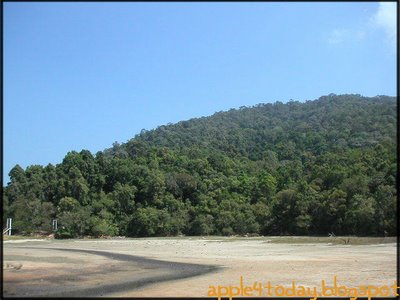 Yes people! This is the lake! It looks more like a desert to me more than a lake. WTF! It has long dry, brittle grass growing all over it. Stupid! Made the extra effort to walk over to see the lake and all we get is dry land. Bahhhh
Remember the girls are suppose to take the boat instead of hiking? We hike all the way wearing only slippers! Woot! Gurls Rocks! Notice the string on my slippers? It's gnawed on by my dog. Stupid jaz!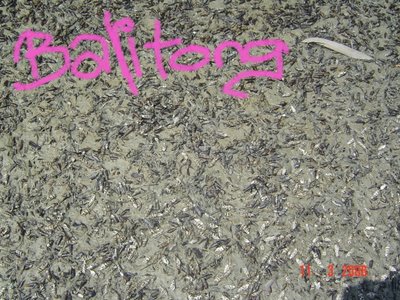 Notice there's a strip of blackish stuff in the lake? I thought it was water from the beach. It's actually dead balitong! There must be zillions of them! Since the lake is already dry, we decide to walk across it instead of around it to hasten our journey to the beach. Yes, we did poke poke around with a stick incase there's quicksand. ahahahah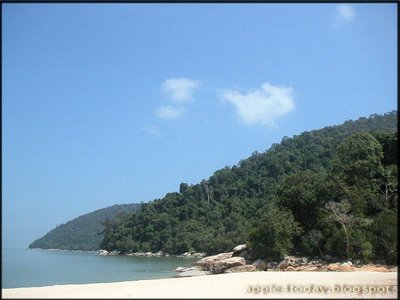 Heaven! I'm in Heaven!! After hiking for like an hour or so, we finally has warm sand around our toes!! Actually its hot like hell ok! But just look at the blue skies, blue sea, lush green hill. The hike is so fucking worth it to see this!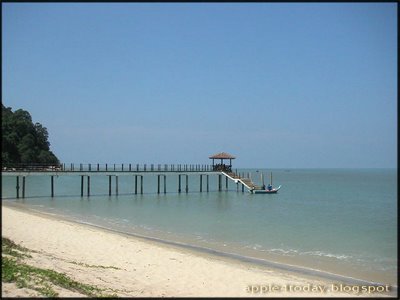 The famous jetty of Kerachut!
Us, rewarding ourself on the jetty after the hike! The day has a steady nice breeze all the time we were there. There's also alot of jellyfish in the waters, so we couldnt swim in it.
Guess what these 2 are doing? They are catching jellyfish! Yes, the previous blog where i posted a photo of whitish stuff is their catch. We bump into a malay guy who is catching jelly fish, so we helped him. Turns out he is the caretaker for the endangered species, green turtle. In return for helping him, we get to play with the baby turtle that just hatch 3 days ago! We learned alot of stuff from him that day.
We were very lucky to be there. It was the right time, right day. He say USM students had been frequently calling him to asked whether there are sighting of turtles and people normally had to camped there for days to wait for the eggs to hatch. Even better, we get to be in his documentary. We were suppose to act normal, like some ignorant tourist (which we are) and he will record it with his video camera. I get to feed the turtle with the jellyfish. No, i did not get stung. We can actually hold the jellyfish. Only the tentacles is poisonous and dangerous. After sucking at the "brain" part of the jellyfish, the turtles are suppose to swim non-stop for 7 days in the open sea, if it can avoid being others lunch or dinner la.
A group picture of at the santuary. To get there, we actually had to run all the way from the beach up to the shelter. It was blistering hot and we were all barefooted at that time. We had to brave the sea of prickly grass to get there too. But again, it was all worth it.
I like this picture alot! The turtle is actually flapping its fin/hand when we took this photo, so my face and ailing's was splashed with water. It was very cute..looks like mini batman to me.
This is life man…Nothing to do for the rest of the day except chor tai tee, eating lunch, yak yak yak and more cam whoring.

1 last photo from kerachut on the jetty
We manage to hire a boat for just RM10 each person. Infact we got another young malay guy to give us a ride at RM8 only. Fuck you chinese old man! Same race also want to cheat us money! No wonder you don have business la, have to sit at that shabby shade waiting for people who will not hire you! Notice the white plastic bag that Yaw Shiong is holding. Ailing brought a souvenier home with her from that island. And her name is Marie!!! Meet Marie the Jellyfish!!!
In all, it was a very refreshing and rewarding experience. I would love to go back there someday! Maybe i will join my friends to camp there this year if the situation allow. =) I'm a very happy person now~!~!~!~